It seems fitting that a route that was imbued with both tea and mountains, The Ancient Tea Horse Road , would become a fixation in my life. In 2006/7 five Tibetans and myself would complete a 7.5 month 5,000 km length of the entire route – making it a first for any western explorer, or any known 'outsider'. With bodies bowed, veins full of tea and heads loftily left in the magnificent heights, our perspective and scope of knowledge of both tea and the Himalayas had been irreversibly broadened. For the most remote, battle and nature hardened peoples there was no commodity equivalent to Jia, Cha, or simply Tea, no route more sacrosanct to so many isolated peoples than the grand mysterious band called Gyalam (Wide Road) to the Tibetans, Cha Ma Gu Dao (Ancient Tea Horse Road) to the Chinese and to others simply as 'The Eternal Road'. For 13 uninterrupted centuries, laden caravans, migrants, villains and warriors alike treaded the great path through the mountains – a path that gave as well as took life.
In my ensuing book 'Ancient Tea Horse Road-Travels with the last Himalayan Muleteers' (Penguin Canada) the route, it's understated crucial role in the Himalayan history, and the adventure that our expedition tea happily engaged in is documented.
This stunning and daunting route, so vital to so many of the remote Himalayan peoples, somehow remained a virtual mystery to the west for almost 13 centuries – it is now hopefully getting its due and some of the acclaim it deserves, as one of the globes's most daunting and incredible journeys.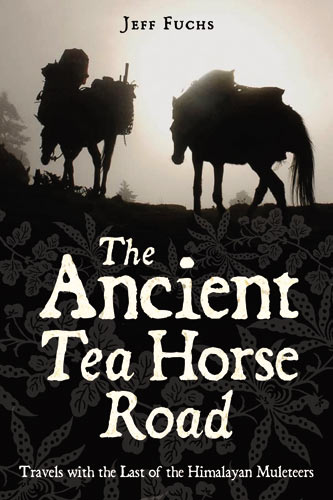 Buy "The ancient tea horse road" at Amazon